Large Block Retaining Walls in Ottawa and Surrounding
Your one stop shop for clearing, excavation and landscaping in the Ottawa Valley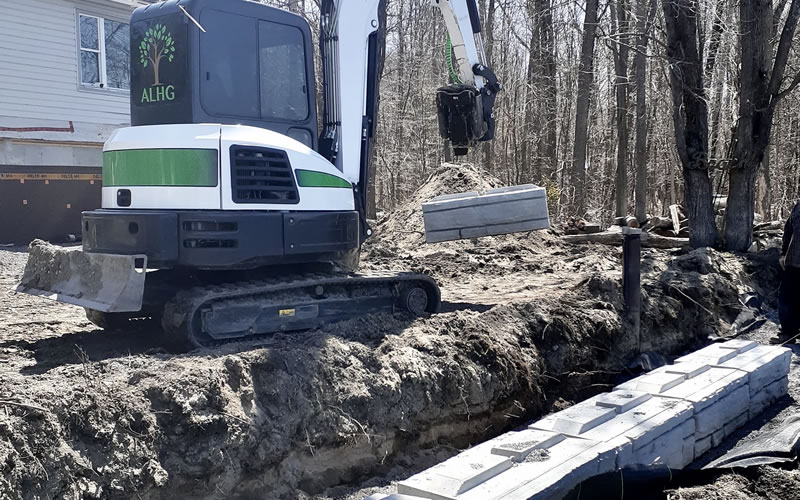 When you have a need for a very large retaining wall to hold back earth you need to start looking at much larger retaining wall blocks in order to speed up installation and ultimately lower labor costs as these large scale walls can get expensive quickly.  There are a variety of large format retaining walls products on the market including natural boulders and concrete pre-cast retaining wall blocks.  Both options can work very well when installed properly but the pre-cast, pre-engineered block systems have several advantages over a natural boulder wall.
Shade Group is a family owned and operated landscape construction company based out of Ottawa.  We specialize in the design and construction of large format or block retaining walls using systems like M Con's "Stone Strong" blocks or ReCon Retaining Wall Systems. These large format pre-cast concrete blocks come in a variety of different colors and styles and are specifically engineered to be lighter than solid concrete blocks and bigger than other concrete block wall products. Their lighter weight, increased size, and interlocking system help reduce overall labour costs and installation time for especially large wall projects.
Large Block Retaining Walls Are Great For:
Residential projects requiring large walls
Commercial projects requiring large walls
Seawalls or lakefront walls
Walling the edges of roads or driveways against a slope
Retaining walls with heavy surcharges such as carving out space for parking areas for boats, RV's, and vehicles
We have the knowledge, expertise and access to the heavy equipment to construct large format block retaining walls for a variety of different uses.
Retaining Walls & Building Permits in Ottawa
According to the Ottawa building codes a "retaining wall" means a structure which supports and confines a mass of earth or water where there is a change in ground elevation. Retaining walls that are over 1.2 meters (3.9ft) in height will usually require a building permit. In addition any retaining walls over 1.2 meters (3.9ft) in height must be designed and signed off by a geo-technical and/or structural engineer to ensure the wall is properly constructed for your site conditions and intended purpose (like a surcharge load). This does not account for any covenants that might be on your property.
How Our Retaining Wall Construction Process Works
When building a retaining wall on your property that is designed to hold back tonnes of soil and earth there is very little margin for error. Depending on how large your retaining wall and what purpose it is intended to serve, we may need to work directly with a geotechnical engineer to ensure your wall is built the right way.
We start with our initial consultation.
We determine how many feet of retaining wall you need.
We determine the height of the wall and if a building permit or engineer will be required.
We consult with you on the type of look you'd like the finished project to have (e.g. colour, texture, stamped, etc.).
We'll provide you with an accurate written estimate for the work.
We'll get to work on the schedule start-date and build your new retaining wall.
We'll maintain open and transparent lines of communication throughout the project, including daily updates on how things are progressing. We believe communication is important and vital to a succesful project!
The end result will be a beautiful new retaining wall on your property.
The amount of work required to build a retaining wall can vary widely from project to project. The slope of your property, the amount of earth your retaining wall must hold back and the overall accessibility of your property will all contribute to the final cost.
Remember:  Retaining walls that are in excess of 1.2 meters in height (3.9 ft) will require a building permit and must be designed by an engineer.  We are more than happy to arrange and organize  more complex projects such as this.
Other Retaining Wall Options
We also provide services related to the installation of armour stone retaining walls and poured concrete retaining walls.
Why Choose Shade Group for your Large Block Retaining Wall Project? 
When you choose Shade Group for your project you are partnering with a local business that has been serving the Ottawa area for many years. You can count on your project being completed on time, on budget and with a level of workmanship and attention to detail you won't find with other contractors.
The Shade Group team is large enough to design and install retaining walls of all sizes but we're still small enough to give your new retaining wall the specific care and attention it needs to be safe, solid and aesthetically pleasing.
We'll maintain a safe working environment and we'll protect your property from any damage while using our machines, the end result is to meet all of your excavation and landscaping goals while leaving minimal trace of our presence. Our business has continued to grow through word-of-mouth from our many happy customers who refer us to friends and family. It's through our continued commitment to quality and customer satisfaction that we are able to continue doing what we do best!
We believe in providing great service, superb communication and value with every project we complete!
If you'd like an estimate for your project please fill out our contact form and we'll get right back to you. We strive to respond within 24-48 hours - so if you haven't heard from us - check your junk mail filter!