Land and Lot Clearing Services in Ottawa and Surrounding
We specialize in transforming land into level, useable land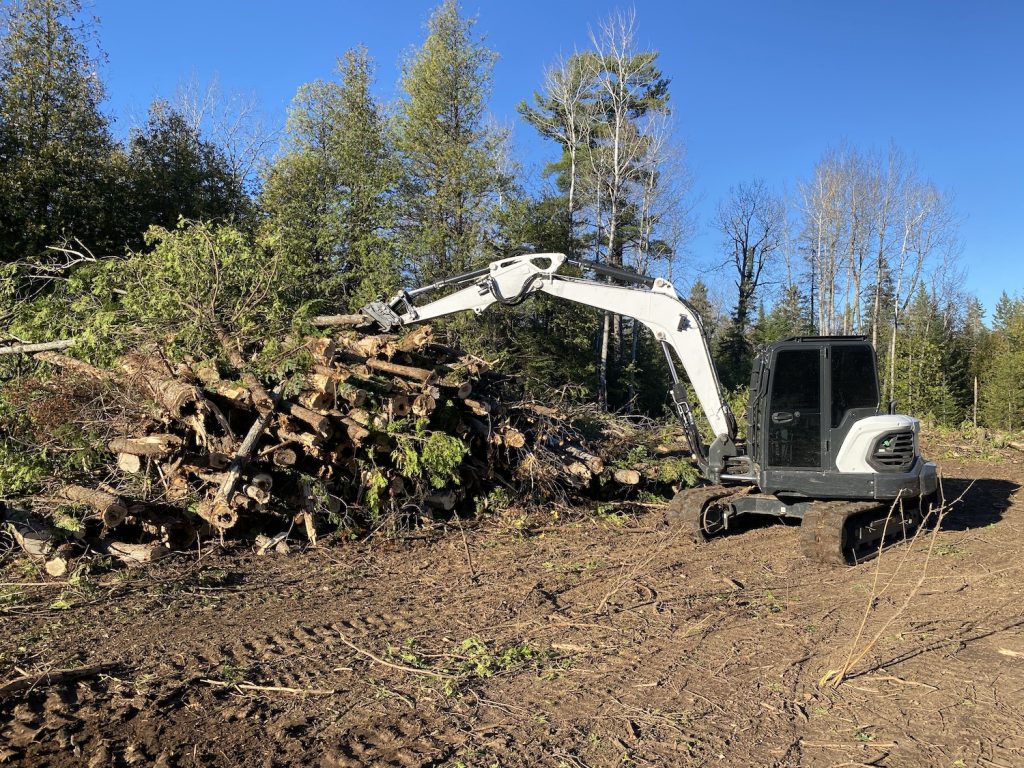 Do you have a large piece of residential or commercial property that requires extensive excavation and sitework before it can be developed?  From lot clearing and tree removal to grading and the installation of all basic services and even your buildings foundation, we can help!
Land Clearing - When Might you Need it?
Land clearing is an important part of the land development process. Whether you're looking to build a new home, install a new driveway, or build a horse pasture, if there are trees and shrubs in the way, chances are they'll need to be removed.
Stages of Land Clearing
Stage 1: Tree Removal / Tree Cutting
Most land clearing projects start with removal of the trees. Depending on the density of the trees and size of the trees and how close to existing structures they are; this can either be done by hand (with chainsaws, tree climbers, etc.) or with heavy machinery.
Stage 2: Stump Removal
Depending on the intended end use, you may or may not need to have the stumps removed as part of your project. If you're putting in a new driveway or building a horse pasture, removal of the stumps is recommended to avoid unevening settlings over time, as the stumps breakdown. If you're looking to turn the area into a garden or new lawn, stump removal is not generally needed.
Stage 3: Finish Grading
The third stage of your land clearing project may involve bringing in fill material to level out uneven areas and grading out the area to create a smooth, finished surface. Depending on the site conditions, finish grading may be sufficient, particularly if the soils are good. For more on finish grading services, please check out our finish grading page.
Stage 4: Topsoil & Grass
If the intended finished product is to have a smooth lawn, the final stage of a land clearing project may involve importing fresh, nutrient rich topsoil that is then finished with seed.
Lot Clearing & Land Development Services in Ottawa and Surrounding
Lot and land clearing;
Tree removal and stump removal;
Our Recent Projects
Why Choose Shade Group for Your Lot and Land Clearing Project?
When you choose Shade Group for your lot and land clearing project you are partnering with a local business that has been serving the Ottawa area for many years. You can count on your project being completed on time, on budget and with a level of workmanship and attention to detail you won't find with other contractors.
We'll maintain a safe working environment and we'll protect your property from any damage while using our machines, the end result is to meet all of your excavation and landscaping goals. Our business has continued to grow through word-of-mouth from our many happy customers who refer us to friends and family. It's through our continued commitment to quality and customer satisfaction that we are able to continue doing what we do best!
We believe in providing great service, superb communication and value with every project we complete!
If you'd like an estimate for your project please fill out our contact form and we'll get right back to you. We strive to respond within 24-48 hours - so if you haven't heard from us - check your junk mail filter!