Demolition Services in Ottawa and Surrounding
Concrete Removal | Pool Removal | Shed Removal | Building Removal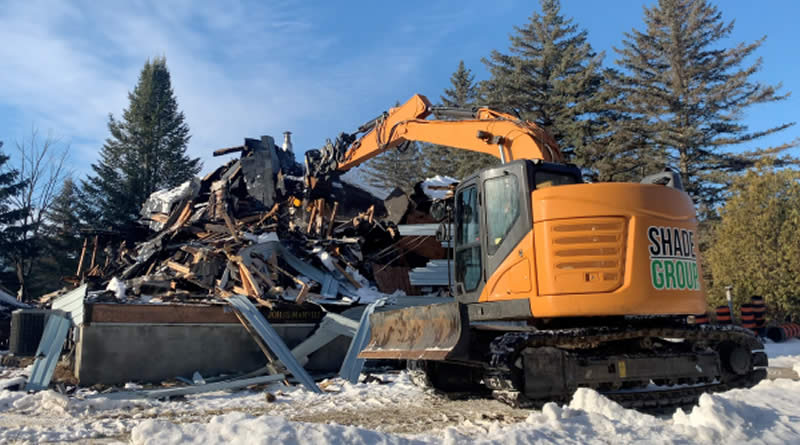 Residential Demolition Services
We are experts in residential demolition projects for construction and remodeling.  Are you looking at remodeling or doing some construction projects on your home or property?  Often times, a construction or remodeling project requires demolition services prior to kicking off the new construction. Whether it's removing an entire house as part of a renovation or as a result of a fire, or demolishing a shed or accessory structure, we can make sure the job is done efficiently and safely!
Pool Removal Services
Do you have an old in-ground pool that hasn't been used in years?  If you're looking to reclaim that usable space we can remove the old pool and replace it with good, clean fill, so you can get your yard back or complete other landscaping projects.
Concrete Demolition
From foundations to patios, we have the equipment and experience to safely remove and haul off and dispose of concrete from your property. Our crews offer services with:
Concrete patio removal;
Concrete staircase removal;
Concrete retaining walls removal;
Foundation demolition and disposal;
Concrete slab removal;
Failed garage floors.
Asphalt Demolition
Has your driveway reached the end of its life? Whether you're preparing for a new project like an interlock driveway; or your asphalt driveway has simply reached the end of its life, Shade Group can help by tearing up and hauling off the old asphalt.
Land Services
If you're preparing for your new project but need land clearing services, that's also something we can help out with! Check out our page on land clearing for more information!
The Right Equipment for the Job
Shade Group has a variety of equipment making easy work for any project. We have multiple excavators equipped with demolition grapples, concrete breakers and speciality demolition tools. We own our own roll-of-bin (dumpster) as well as large dump trucks which make hauling and disposing of debris efficient and cost effective.
Recent Projects
Why Choose Shade Group for Your Demolition Project?
When you choose Shade Group for your demolition project you are partnering with a local business that has been serving the Ottawa area for many years. You can count on your project being completed on time, on budget and with a level of workmanship and attention to detail you won't find with other contractors.
We'll maintain a safe working environment and we'll protect your property from any damage while using our machines, the end result is to meet all of your excavation and landscaping goals. Our business has continued to grow through word-of-mouth from our many happy customers who refer us to friends and family. It's through our continued commitment to quality and customer satisfaction that we are able to continue doing what we do best!
We believe in providing great service, superb communication and value with every project we complete!
If you'd like an estimate for your project please fill out our contact form and we'll get right back to you. We strive to respond within 24-48 hours - so if you haven't heard from us - check your junk mail filter!