Property Grading & Leveling Services in Ottawa and Surrounding Areas
We are experts in precision grading.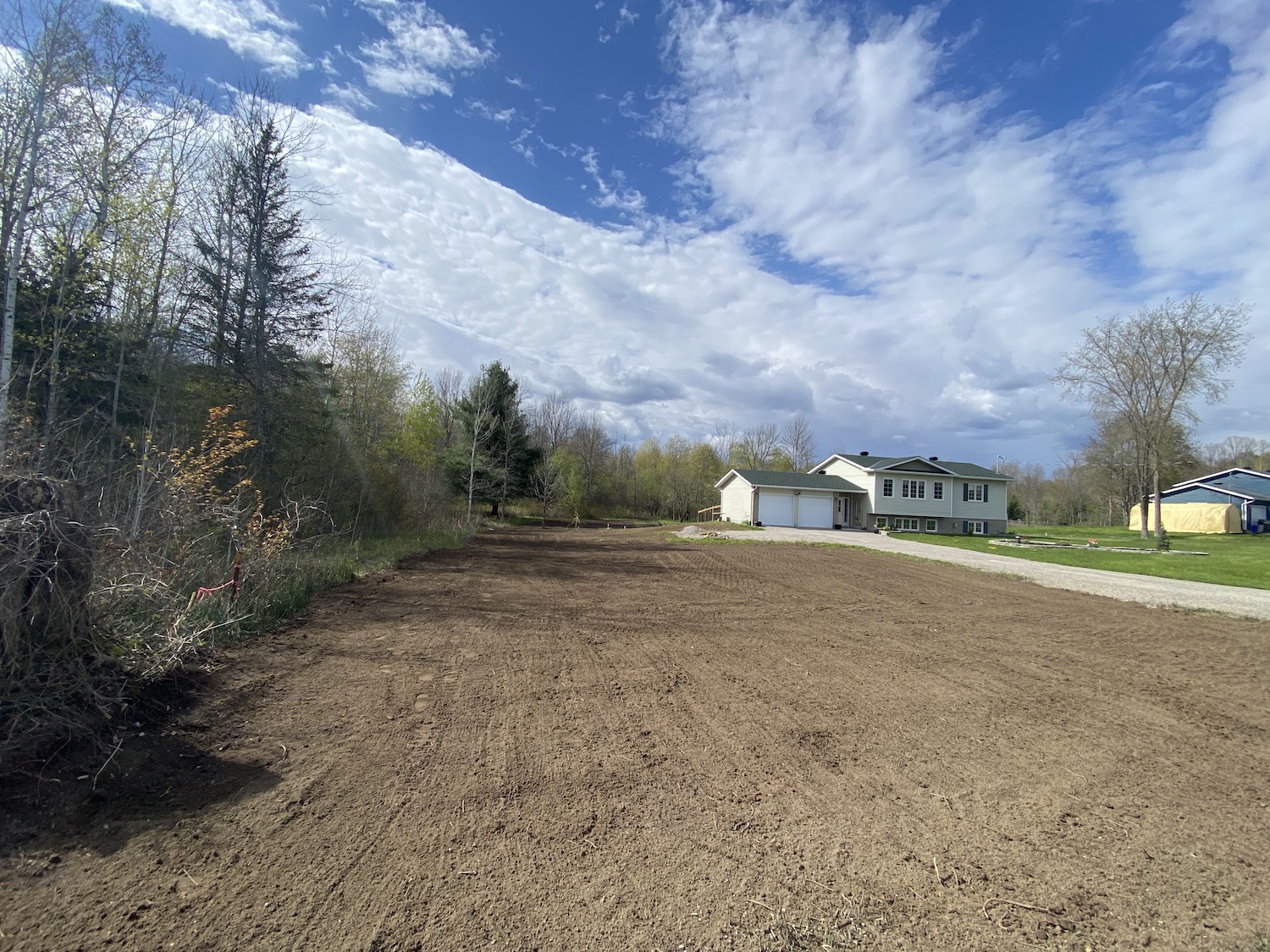 Have you recently built a new home and now the lawn needs to be cleaned up so you can get some lush new grass growing?
Are you sick of the lumps and bumps in your lawn that make it a tripping hazard to walk or play on your property?
Are you having issues with drainage? Does your property need to be regraded to slope away from your home or garage?
We can help!
The Issues
Property grading problems are the number one cause of foundation issues. If improper grading is not addressed, it can cause water to pool near the foundation, and over time may cause foundation cracks, or even basement flooding.
While water pooling is typically a side affect of poor grading, this is not just limited to beside houses. Poor grading of a driveway can cause the driveway to hold water, causing soft spots, and ultimately pot holes.
Poor grading in a yard can cause flooding or ponding - which is to say it won't drain away. You'll often see this in the form of a swampy area. The area will stay wet for far longer than the rest of the yard, or maybe even not dry out at all. These areas are often difficult or impossible to mow because of how soft they are, and can be a breeding ground for mosquitos.
Poor grading can also be an aesthetic issue. Lumps and bumps in the lawn can make it unsafe and unpleasant to walk or play in your yard. Regrading can help smooth the surface and make it more enjoyable to use your lawn.
So, How Do We Fix It?
The size and severity of the grading issue will dictate how we solve the problem. All but the smallest grading projects will involve heavy equipment.
For grading projects, where we're changing grade significantly, we might use an excavator or skid-steer to move around large amounts of material. 
Once the earth has been moved, most projects are finished off with the harley rake to fluff and smooth the soil before seed or sod are placed.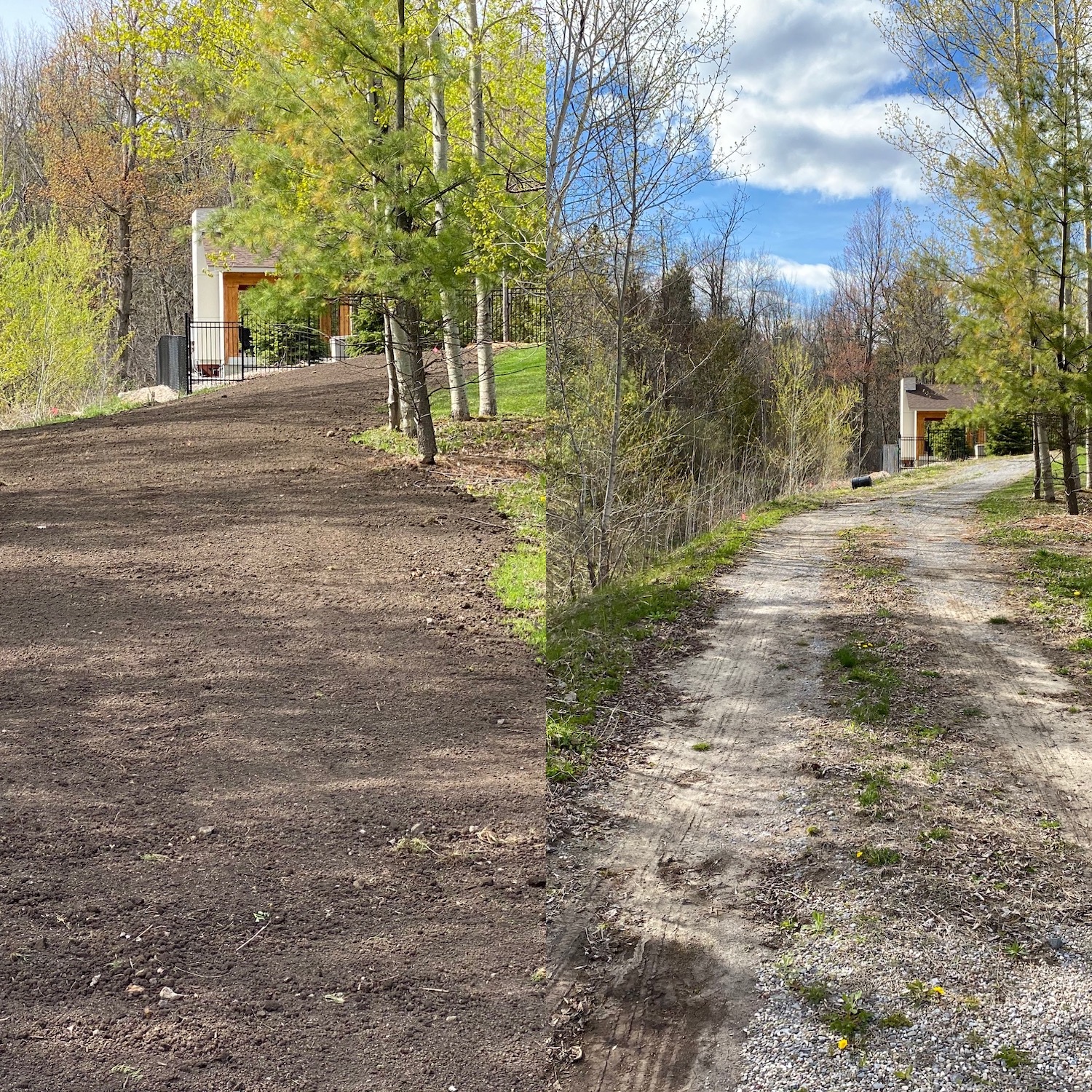 Industry Terms - Rough Grading vs. Finish Grading
If you're working with a builder, you may have heard that your project will be "rough graded". This term is used to describe the condition that the contractor will be leaving the site in upon their completion. The term "rough grading" varies from contractor to contractor and as such, the final condition you're left with may vary from "good enough to throw grass seed on" to "needs significant cleanup to smooth it out".
Whether it's new construction or land clearing, rough grading is generally what is left after the initial work is done (i.e. building a house or removing trees/brush). To get it to the finish line, you may need finish grading services. Finish grading is the final polish on the project. It involves smoothing out the lumps and bumps and getting the project ready for finish conditions - which is typically grass.
Finish grading services with Shade Group typically involve importing fresh topsoil to ensure that there is sufficient nutrients for your new lawn to grow on.  Depending on your property's natural soil conditions (clay vs. sand) - topsoil may also be necessary to ensure a smooth finished surface. Topsoil is then spread with our excavator and/or harley rake; leaving you with a fresh, smooth surface on which to grow grass.
Property Grading Services in Ottawa
Lot Grading
Creating new lawn areas
Levelling building lots
Adding or removing fill
Building gravel parking areas or parking pads
Recent Projects
Why Choose Shade Group for Your Grading Project?
When you choose Shade Group for your project you are partnering with a local business that has been serving the Ottawa area for many years. You can count on your project being completed on time, on budget and with a level of workmanship and attention to detail you won't find with other contractors.
We'll maintain a safe working environment and we'll protect your property from any damage while using our machines, the end result is to meet all of your excavation and landscaping goals. Our business has continued to grow through word-of-mouth from our many happy customers who refer us to friends and family. It's through our continued commitment to quality and customer satisfaction that we are able to continue doing what we do best!
We believe in providing great service, superb communication and value with every project we complete!
If you'd like an estimate to improve your property please fill out our contact form and we'll get right back to you. We strive to respond within 24-48 hours - so if you haven't heard from us - check your junk mail filter!