Excavation for Underground Utility Installation
Your Ottawa Area Trenching Experts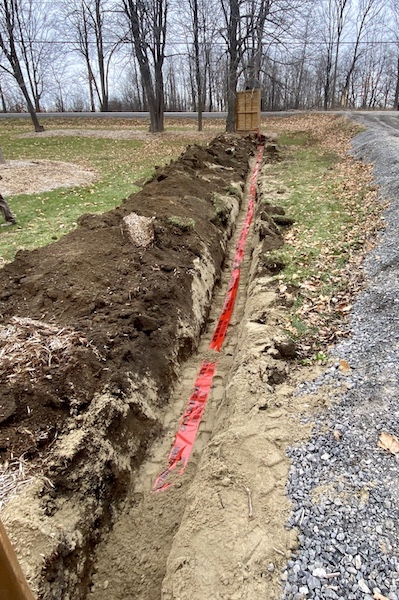 If you are looking to have utilities installed, whether it's a new gas line for your pool heater; electrical for your new detached garage; or communications cables for your new home, we can help with your utility trenching needs.
Underground Utility Trenching & Installation in Ottawa and Nepean
Underground water piping;
Underground gas line trenching;
Underground electrical installations
Sump pump discharge;
Underground utility exposure.
There are a number of safety and regulatory concerns when working with underground utilities in the province of Ontario and every single project we work on will be different.  If you have an excavating or construction project that requires the installation of underground utilities or trenching it is best to reach out so we can best assess the needs of your project.
Recent Projects
Why Choose Shade Group for Your Utility Trenching Project?
When you choose Shade Group for your project you are partnering with a local business that has been serving the Ottawa area for many years. You can count on your project being completed on time, on budget and with a level of workmanship and attention to detail you won't find with other excavation contractors.
We'll maintain a safe working environment and we'll protect your property from any damage while using our machines, the end result is to meet all of your excavation and landscaping goals while leaving minimal trace of our presence. Our business has continued to grow through word-of-mouth from our many happy customers who refer us to friends and family. It's through our continued commitment to quality and customer satisfaction that we are able to continue doing what we do best!
We believe in providing great service, superb communication and value with every project we complete!
If you'd like an estimate for your project please fill out our contact form and we'll get right back to you. We strive to respond within 24-48 hours - so if you haven't heard from us - check your junk mail filter!