Gravel Driveway Construction & Installation
We're experts in revitalizing or installing new gravel driveways.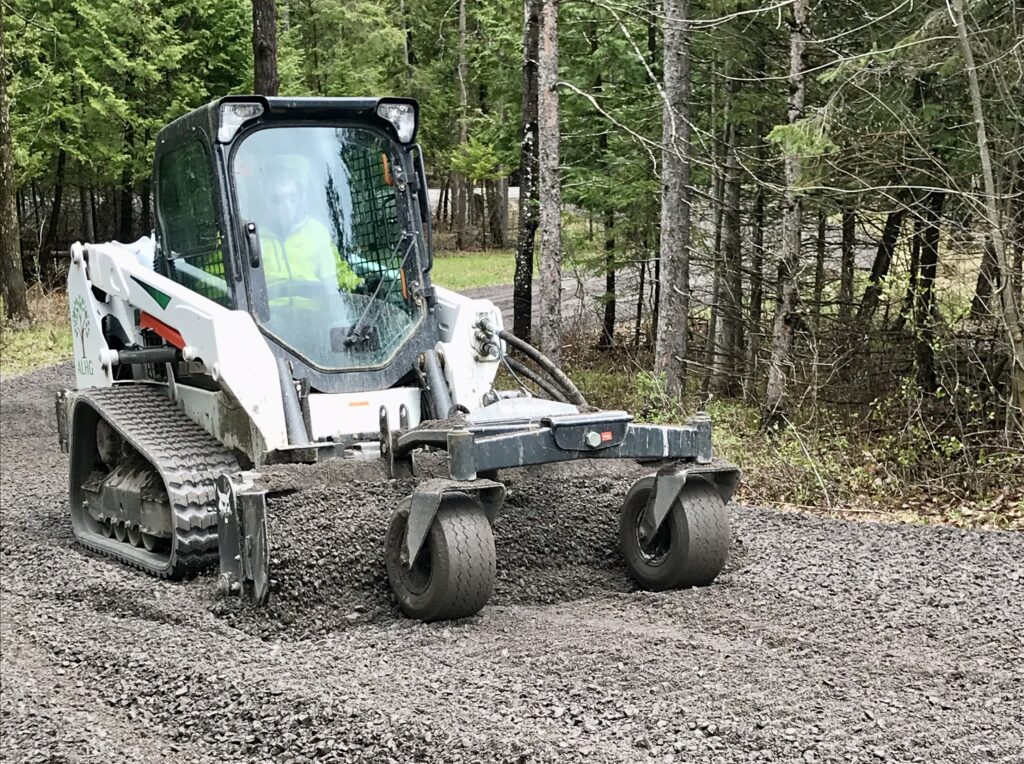 Does your new construction project need a driveway for safe access or delivery of construction material?  Do you need a gravel driveway installed on your rural property? Or perhaps you'd like to freshen up your existing gravel driveway?  The cost of paving the driveway probably scares you!  The best alternative is usually to have a gravel driveway installed.  When properly graded and installed properly a gravel driveway will last for years and they can always be resurfaced down the road to get that like new appearance at a fraction of the original cost of construction.
We experts in constructing and rehabilitating gravel driveways for our clients.  From the initial preparation and grading to building up the base and spreading the top layer of gravel we'll take care of everything.  Whether it's a long winding driveway for your rural property or a small gravel approach, we can help.
Gravel Driveway Construction
New gravel driveway construction
Gravel driveway regrading or resurfacing
Gravel parking pads and building pads
Driveway additions or round-a-bouts
Gravel parking areas
Driveway removals
How We Build or Maintain Your Gravel Driveway
Planning - New Construction
Like most things, it's best to start off with a plan. Driveways are no different. For new construction driveways, we conduct a site visit to survey the existing conditions, and work with you to determine the best location for the new driveway. We want to ensure the location of the driveway has sufficient drainage, and clearance for the vehicles that will use it. In steep terrain, maximum allowable slopes may affect the route of the driveway to ensure emergency vehicles can safely access your property in the future. From there, we stake out the intended path, and start measuring. At this point, we also determine if any culverts are required, and if any permits are required. Typically permits are only required when constructing a new private approach, or working within the regulation limit of a floodplain. When in doubt, it's always best to contact your local municipality!
Planning - Regrading or Resurfacing
Existing gravel driveways are a bit different than new construction. The location is set, and our goal is to improve upon the existing conditions. One key factor we are always looking to ensure is adequate drainage. Water is the enemy of roads or driveways. We look for pot holes, depressions, or grade changes that may hold water. We inspect any culverts. Now would be the time to replace them if necessary. We also look to see if gravel has been removed over time by traffic and snow removal.

Site Preparation
Since all of the planning has been completed in advance, our first step once equipment is on site is to prepare the area for the work being done.
We first start by clearing any overhead hazards that might interfere with equipment.
Then - for new driveways - we proceed in removing unsuitable soils.
For existing driveways - our next step is to re-grade the existing base to fill in any potholes and remove any bumps.
Spreading Gravel
While both new and existing driveways will have gravel put down, the quantity varies. New construction will generally get multiple lifts of differing size gravel to build up a solid base. Existing driveways, except in the most extreme cases, generally get a fresh layer of finer gravel placed on top.
Grading
Once the gravel is down, we ensure that it is shaped in a way that ensures water will flow off the driveway. This helps prevent potholes, and ensures the road or driveway will last for years to come.
Compaction
Compaction is one of the most overlooked aspects when constructing or refreshing a gravel driveway. Throughout the construction process, we need to ensure every aspect of the driveway is properly compacted. If not, settling, rutting, and potholes, may occur. We make sure our projects are properly compacted by using a heavy duty vibratory roller on all of our gravel driveway projects.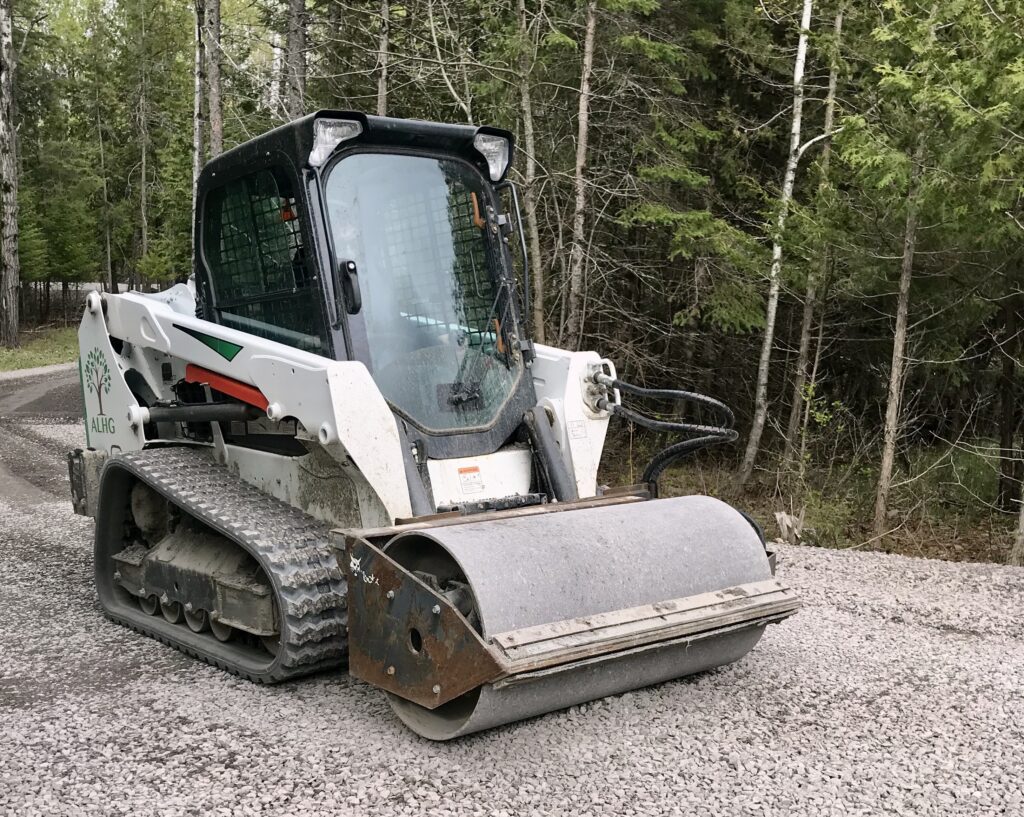 Recent Gravel Driveway Projects
These are some pictures of recent driveway construction and rehabilitation projects we have worked on. Projects ranged from simple maintenace projects that required minor re-grading and placement of fresh gravel - to full rebuilds of driveways that were built without suitable subbase.
Why Choose Shade Group for Your Gravel Driveway Project?
When you choose Shade Group for your gravel driveway installation or maintenance project you are partnering with a local business that has been serving the Ottawa area for many years. You can count on your project being completed on time, on budget and with a level of workmanship and attention to detail you won't find with other excavation contractors.
We will maintain a safe working environment and we will protect your property from any damage while using our machines. The end result is to meet all of your excavation goals while leaving minimal trace of our presence after we leave. Our business has continued to grow through word-of-mouth from our many happy customers who refer us to friends and family.  It's through our continued commitment to quality and customer satisfaction that we are able to continue doing what we do best!
If you'd like to receive an estimate for the installation of a new gravel driveway  or to maintain an existing gravel driveway, please fill out our contact form and we will get right back to you. We strive to respond to all requests within 24-48 hours, so if you haven't heard from us - check your junk mail filter!